I want to offer a special thanks to Amy Schwartz Here is her story:
Hi Barbara,
My name is Amy. I saw you speak in San Jose, CA at the Double Tree hotel and I loved your talk. I have to say it gave me a real pick me up, as I was at a plateau. Let me begin from the beginning.
I got pregnant 11 years ago and even though I never had any type of weight problem before, I gained a lot of weight. I went from about 120 pounds (I am 5 ft 10 in) to almost 200 pounds on the day I gave birth. Ever since that day my weight has gone up and down, but the smallest I was ever able to get down to was about 165 pounds.
I was unhealthy, had high blood pressure and was severely depressed. I started to learn about weight loss surgery in mid 2003. Research and more research later, I still was unsure. I was very nervous about surgery. What made me make the final decision was a phone call I got in mid July 2003. My sister called me very early on a Sunday morning. She had just gotten engaged and wanted to ask me to be a bridesmaid in her wedding. The very first thought that entered my mind was not congratulations, or happy thoughts for her, no; it was pure dread and fear. I had to wear a dress that would undoubtedly be unflattering and stand up in front of all my family and good friends and others that I didn't know and be the ugly fat sister. How sad that I couldn't even muster up a nice saying for my sister on her happy day. It took me until after her wedding in November and the holidays to be able to make some calls.
But, I made the decision to have surgery. I was going to have a Roux en-Y gastric bypass. I started the process to find a doctor, found a great one, and started the approval process with my insurance company. Well it happened fairly quickly, and I scheduled my surgery at the first available date which was April 6, 2004. I was almost 320 pounds.
As of today, June 1, 2005 I am now 130 pounds and a size 6. I did lose a lot of my hair, but other than that, I cannot tell you how happy I am with my decision. I am happy and healthy. I work out 5 days a week. I am involved in a healthy, loving, committed relationship with a great man. We are getting married later this year. My life is 180 degrees different than my old self. And surgery gave me the tools and outcome to gain the confidence I needed. I have a good job and love my life. Itís been a long road, but well worth it.
Thanks for the inspiration and information
Amy Schwartz
amynbrad@charter.net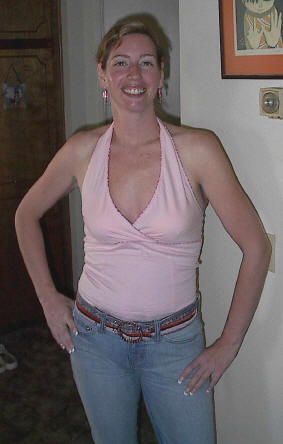 After
I love good news. If you have good news, a success story to share, or inspiration, please send it to me at Barbara@WLScenter.com so that I can include it in future issues.