WLS Center E-Newsletter

A FREE publication from
http://www.WLScenter.com

Hosted by Barbara Thompson
Author of:
Weight Loss Surgery:
Finding the Thin Person Hiding Inside You.

| | |
| --- | --- |
| Issue #110 | February 1, 2007 |


Barbara Thompson
The Voice of Obesity

Hello Everyone,
Do people ever say to you something like, "Gee, weight loss surgery is becoming so popular. I know 3 people who just had it." It does seem that weight loss surgery is popular. However, consider that only between 1% and 2% of people who qualify for weight loss surgery actually have it. One of the reasons that the percentage is so low is because of barriers to coverage that insurance companies put up so that people will not have surgery. In an article below, I report on a huge victory by the Obesity Action Coalition vs the Tennessee Blue Cross/Blue Shield.

The retreat in Charlotte was wonderful. If you can possibly make one of the retreats, you will be thrilled. I am starting something new that I am announcing below. I will be doing my first cruise this August. You will receive a separate email survey getting your input regarding this.


In This Issue

* Back on Track
* Research Article: Recommendations on the Use of Alcohol after Surgery
* Cruise News
* A Victory for All of Us
* Recipe: Tarascan Soup
* Success Story: Jamie Volner
* Spreading the Word in Allentown, New York, Park Rapids, and Milwaukee

It's Time to get Back On Track

If you're not happy with your weight loss, then join the
Back on Track with Barbara Internet Mentoring Program.

Back On Track with Barbara is a 6-month membership program that provides an internet mentorship for those who are struggling with weight regain after weight loss surgery. It also benefits those who have never reached their goal weight after surgery

Here is a recent comment from a new member:
"I sure wish I had come here when my eating started slipping. But we are all on our own journeys--even though we have so much in common. I highly recommend listening to some of the audio seminars. I just joined last week and already I have a ray of hope I haven't had in quite some time." Cindy

For more information or to join the Program, go to

<![if !vml]><![endif]>

Research Article:

Recommendations

on the

Use of Alcohol after Surgery

Many thanks to Dr. Cynthia Buffington for allowing us to reprint her article on the use of alcohol. I think you will find it very interesting.

A 32-year old male 5 months out from gastric bypass surgery was issued a DUI after attending his brother's wedding reception. According to the patient, he had only consumed 2 glasses of champagne, although his blood alcohol levels were above the legal limit to operate a motor vehicle.

A female patient 50 years of age and one-year post-gastric bypass hit and killed a pedestrian with her automobile after having less than 2 glasses of wine. When police arrived she had difficulty with her coordination, slurred her words and seemed somewhat confused, although her alcohol test suggested that her blood alcohol levels were shy of the legal limit.

Were these patients telling the truth about the amount of alcohol they had consumed or did their surgery affect the way the body absorbs or metabolizes alcohol?

A recent study reported in the British Journal of Clinical Pharmacology found that the gastric bypass procedure significantly affects alcohol absorption and its inebriating influence. According to the study protocol, a group of gastric bypass patients, three years post-surgery, and their non-surgical controls consumed an alcoholic drink after an overnight fast, and blood alcohol levels were examined over a period of time. The data showed that blood alcohol levels of the gastric bypass patients were higher and required much less time to peak than those of the non-surgical controls.

The more rapid absorption of alcohol and heightened blood alcohol levels would cause the bariatric patient to have a more pronounced feeling of inebriation during and shortly after drinking. And, such effects could have serious ramifications with regard to driving an automobile or performing other skilled tasks such as operating heavy machinery, piloting a plane or any other task that may influence the safety of the individual or that of others.

Cruise News
<![if !vml]>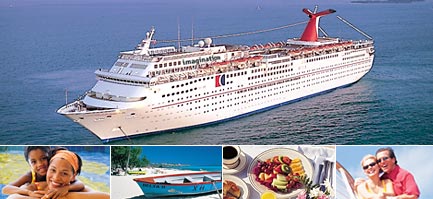 <![endif]>
I have been asked many times when I am going to have a cruise. Well I finally got the message!! I am planning one for August on the Carnival Cruise Line ship, Imagination (Actual ship photo above). And I can't wait!!
I will be sending out a survey with some choices in August of some cruises dates and destinations, so look for the survey in your email. I want to select the cruise that the greatest number of you want.
You will be able to cruise with fellow weight loss surgery patients and family members with food that we are able to eat as well as regular cruise cuisine and special events just for our group. When at sea, there will be sessions available on nutrition, emotional eating and exercise that you will love.
Remember, look for the survey in your email inbox!

A Victory for All of Us

The Obesity Action Coalition scored an important victory for all of us recently concerning a condition of coverage that Tennessee residents who have Blue Cross/Blue Shield insurance were required to meet in order to qualify for weight loss surgery. The requirement was that candidates for weight loss surgery pass an IQ test!

The Obesity Action Coalition took Tennessee Blue Cross/Blue Shield on and issued a press release concerning this. Fox News picked it up and had it as their lead story. Blue Cross/Blue Shield has subsequently dropped the requirement. That was a huge victory!

The OAC would like to call on you to provide them with some of your unusual experiences with accessing treatment. Does your insurance provider's policy contain an unusual requirement? If so, please send a copy of the policy with the requirement highlighted to the OAC National Office. The contact information for the OAC is:
4511 North Himes Avenue, Suite 250
Tampa, Florida 33614(800) 717-3117
(813) 872-7835
Fax: (813) 873-7838
info@obesityaction.org

Also, the OAC needs your help to continue doing good work like this. Please consider joining. An annual membership is just $20.

I want to offer a special thanks to Suellen Manning from the Charlotte retreat for contributing this recipe.

Tarascan Soup from Suellen Manning

1 Tbsp olive oil
1 cup chopped onion
4 large garlic cloves, minced
1 ( 28 ounce ) can diced tomatoes, undrained
2 ( 15 ounce ) cans pinto beans, undrained
2 tsp chili powder
1 tsp ground cumin
½ tsp hot sauce
¼ tsp salt
1 (16 ounce) can fat free, less sodium chicken broth
1 cup (8 ounces) shredded reduced fat Monterey jack cheese
16 baked tortilla chips, crushed (about 1 cup)

Heat oil in a large Dutch oven over medium high heat. Add onion and garlic; sauté 3 minutes. Stir in tomatoes; cook 5 minutes. Place beans in a blender or food processor; process until smooth. Add beans, chili powder, cumin, hot sauce, salt and broth to pan; bring to a boil. Reduce heat to medium low and cook for 18 minutes. Serve with cheese and chips.

Yield 8 servings ( serving size: 1 cup soup, 2 Tbsp cheese, and about 2 Tbsp chips)

Calories 266, Protein 15.4 G, Carb 40.2 G

If you have a recipe that you would like to share in future issues of this newsletter, please send it to me at Barbara@WLScenter.com

I want to offer a special thanks to Jamie Volner. Here is her story:

Well, like most of us that suffer or suffered from obesity my story is not much different than most. However, I wanted to share with others just like myself.

I was not an overweight child but did struggle with an emotional eating disorder. I was an abused child, therefore I learned to comfort myself with food. I was able to keep the weight at bay with sports and activities for the time being.

When one talks about eating disorders the first thing that comes to mind is Anorexia or Bulimia and as I grew older I found out that over-eating for emotional issues was not one that was addressed or really known how to address. Basically I was told to "deal" with it.

At the age of 19 after the birth of my first child my weight really started to increase. I had several miscarriages before my second child was born which added to the "emotional issues" and well, you get it, food was my source for coping.

By the age of 32 I had a stroke and my health issues were just out of control. I had tried every diet known and just about every pill there was. Someone had mentioned having weight loss surgery and I was adamant that I was not going to go that route. I was definitely not taking the easy way out. Little did I know!

Several more years went by and I was now 37 years old and couldn't keep up with my youngest child. I was depressed, my eating was out of control and my health was failing. I was up to 285 pounds and I am only 5'5'. I started reconsidering weight loss surgery in a serious way. I knew I was going to die if I kept this up.

I researched for a year and did my homework. My insurance covered the procedure fully and my PCP was behind me 100%. There were no surgeons in my area that were certified through the American Society of Bariatric Surgery so I opted to go out-of-network. It was a fight to get approved out-of-network, but once I stated my case with facts it was finally approved.

I went to The Wish Center in Tempe, Arizona, which is a 2-hour drive from where I live. I went through education classes, psychological counseling and medical testing and on November 12th, 2003 I had open gastric bypass surgery.

I was at my goal weight of 145 pounds within my first year and I am now almost 3 years out and my weight is stabilized between 141 to 145 pounds. I was a size 26/28 and now I am a size 6! Who would have thought?

I am happy and healthy. I have had a few glitches along the way but nothing that could not or has not been remedied and I have no regrets. Was this the easy way out? I laugh out loud now when I hear that. This has been a tough road to travel and no, it doesn't "fix" the emotional issues. It is a "tool" and one has to work at it every single day.

The surgery may not be for everyone but it was right for me. It saved my life and gave me a life that I didn't even imagine I could have. I may be at goal but I never forget where I came from and always jump at the chance to help other's considering this procedure and helping to educate them as best as I can.

Thank you for allowing me to share my success story. Barbara, thank you for all your hard work in educating people and giving them the encouragement they need to succeed and stay on track to a healthier and happier life.

Jamie Volner
Tucson, Arizona
LadieGreyWolf@aol.com

Congratulations Jamie
You achieved your goal, be proud and tell the world.
I am running low on success stories. If you have a story to share, are at least 1 year post-op and have before and after pictures, please send them to me at Barbara@wlscenter.com so that I can include them in a future issue.

| | |
| --- | --- |
| | Park Rapids and Milwaukee |

I have several engagements coming up which you will be able to attend.

Wednesday Feb. 14th, 7:00 PM to 9:00 PM, Sacred Heart Hospital Auditorium, Allentown, PA. Call Karen Nisky, 610-776-4928, for reservations.

Wednesday March 7th, 7 PM to 8:30 PM, New York Presbyterian Hospital, Whitney 117, 525 East 68th Street, between York Avenue and the East River. Call Liz Goldenberg, 212-746-5294 for information.

Saturday April 14th, 10 AM to 11:15 AM, sponsored by Dakota Clinic, Park Rapids, MN. Call Laurie Hanson, 218-732-2829 for information.

Please Note: I am asked very often about coming to speak for various practices. If you would like me to speak, I am sponsored to speak by either the Hospital or by a corporation. Call me for details 877-440-1518.

Attention Nurses

If you are a nurse and would like for me to speak on positive patient outcomes, patient satisfaction, or obesity sensitivity for your State Nurses Association, please have the conference planner for your State Association contact me. I have a corporate sponsor who will pay my fee and expenses so it is free for your Association. I also speak for many hospitals on the same topics.

Contact me at Barbara@WLScenter.com or 412-851-4195.

Permission to Reprint
You may reprint any items from this newsletter in your own print or electronic newsletter. But please include the following paragraph:

"Reprinted from Barbara Thompson's free e-newsletter featuring helpful information and research material to help patients succeed following weight loss surgery.
Subscribe at http://www.barbarathompsonnewsletter.com "

Subscription Corner

Did someone forward this newsletter to you? Would you like to receive a personal notification when it is ready for you to read? It's simple! Just go to http://www.barbarathompsonnewsletter.com and scroll down to the subscription form. After filling out the form and submitting it, watch for an email that asks you to CONFIRM your subscription.

Your subscription is not complete until we get this confirmation back!

If you like this newsletter, please pass it on to your friends and family and have them signup for our notification service.

Do you want to unsubscribe? Go to the bottom of your newsletter notification email message and click the unsubscribe link. You will be automatically deleted.

If you have any problems with this process,
call our office toll free at (877) 440-1518.

Copyright © 2000-2013 Barbara Thompson All Rights Reserved